Entries tagged as technology
Wednesday, September 19. 2012
Via PLOS genetics

-----
Abstract
Inter-individual variation in facial shape is one of the most noticeable phenotypes in humans, and it is clearly under genetic regulation; however, almost nothing is known about the genetic basis of normal human facial morphology. We therefore conducted a genome-wide association study for facial shape phenotypes in multiple discovery and replication cohorts, considering almost ten thousand individuals of European descent from several countries. Phenotyping of facial shape features was based on landmark data obtained from three-dimensional head magnetic resonance images (MRIs) and two-dimensional portrait images. We identified five independent genetic loci associated with different facial phenotypes, suggesting the involvement of five candidate genes—PRDM16, PAX3, TP63, C5orf50, and COL17A1—in the determination of the human face. Three of them have been implicated previously in vertebrate craniofacial development and disease, and the remaining two genes potentially represent novel players in the molecular networks governing facial development. Our finding at PAX3 influencing the position of the nasion replicates a recent GWAS of facial features. In addition to the reported GWA findings, we established links between common DNA variants previously associated with NSCL/P at 2p21, 8q24, 13q31, and 17q22 and normal facial-shape variations based on a candidate gene approach. Overall our study implies that DNA variants in genes essential for craniofacial development contribute with relatively small effect size to the spectrum of normal variation in human facial morphology. This observation has important consequences for future studies aiming to identify more genes involved in the human facial morphology, as well as for potential applications of DNA prediction of facial shape such as in future forensic applications.
Introduction
The morphogenesis and patterning of the face is one of the most complex events in mammalian embryogenesis. Signaling cascades initiated from both facial and neighboring tissues mediate transcriptional networks that act to direct fundamental cellular processes such as migration, proliferation, differentiation and controlled cell death. The complexity of human facial development is reflected in the high incidence of congenital craniofacial anomalies, and almost certainly underlies the vast spectrum of subtle variation that characterizes facial appearance in the human population.
Facial appearance has a strong genetic component; monozygotic (MZ) twins look more similar than dizygotic (DZ) twins or unrelated individuals. The heritability of craniofacial morphology is as high as 0.8 in twins and families [1], [2], [3]. Some craniofacial traits, such as facial height and position of the lower jaw, appear to be more heritable than others [1], [2], [3]. The general morphology of craniofacial bones is largely genetically determined and partly attributable to environmental factors [4]–[11]. Although genes have been mapped for various rare craniofacial syndromes largely inherited in Mendelian form [12], the genetic basis of normal variation in human facial shape is still poorly understood. An appreciation of the genetic basis of facial shape variation has far reaching implications for understanding the etiology of facial pathologies, the origin of major sensory organ systems, and even the evolution of vertebrates [13], [14]. In addition, it is feasible to speculate that once the majority of genetic determinants of facial morphology are understood, predicting facial appearance from DNA found at a crime scene will become useful as investigative tool in forensic case work [15]. Some externally visible human characteristics, such as eye color [16]–[18] and hair color [19], can already be inferred from a DNA sample with practically useful accuracies.
In a recent candidate gene study carried out in two independent European population samples, we investigated a potential association between risk alleles for non-syndromic cleft lip with or without cleft palate (NSCL/P) and nose width and facial width in the normal population [20]. Two NSCL/P associated single nucleotide polymorphisms (SNPs) showed association with different facial phenotypes in different populations. However, facial landmarks derived from 3-Dimensional (3D) magnetic resonance images (MRI) in one population and 2-Dimensional (2D) portrait images in the other population were not completely comparable, posing a challenge for combining phenotype data. In the present study, we focus on the MRI-based approach for capturing facial morphology since previous facial imaging studies by some of us have demonstrated that MRI-derived soft tissue landmarks represent a reliable data source [21], [22].
In geometric morphometrics, there are different ways to deal with the confounders of position and orientation of the landmark configurations, such as (1) superimposition [23], [24] that places the landmarks into a consensus reference frame; (2) deformation [25]–[27], where shape differences are described in terms of deformation fields of one object onto another; and (3) linear distances [28], [29], where Euclidean distances between landmarks instead of their coordinates are measured. Rationality and efficacy of these approaches have been reviewed and compared elsewhere [30]–[32]. We briefly compared these methods in the context of our genome-wide association study (GWAS) (see Methods section) and applied them when appropriate.
We extracted facial landmarks from 3D head MRI in 5,388 individuals of European origin from Netherlands, Australia, and Germany, and used partial Procrustes superimposition (PS) [24], [30], [33] to superimpose different sets of facial landmarks onto a consensus 3D Euclidean space. We derived 48 facial shape features from the superimposed landmarks and estimated their heritability in 79 MZ and 90 DZ Australian twin pairs. Subsequently, we conducted a series of GWAS separately for these facial shape dimensions, and attempted to replicate the identified associations in 568 Canadians of European (French) ancestry with similar 3D head MRI phenotypes and additionally sought supporting evidence in further 1,530 individuals from the UK and 2,337 from Australia for whom facial phenotypes were derived from 2D portrait images.
-----

The full article@PLOS genetics

Tuesday, September 18. 2012
Via Motherboard

-----
Wearable computing is all the rage this year as Google pulls back the curtain on their Glass technology, but some scientists want to take the idea a stage further. The emerging field of stretchable electronics is taking advantage of new polymers that allow you to not just wear your computer but actually become a part of the circuitry. By embedding the wiring into a stretchable polymer, these cutting edge devices resemble human skin more than they do circuit boards. And with a whole host of possible medical uses, that's kind of the point.
A Cambridge, Massachusetts startup called MC10 is leading the way in stretchable electronics. So far, their products are fairly simple. There's a patch that's meant to be installed right on the skin like a temporary tattoo that can sense whether or not the user is hydrated as well as an inflatable balloon catheter that can measure the electronic signals of the user's heartbeat to search for irregularities like arrythmias. Later this year, they're launching a mysterious product with Reebok that's expected to take advantage of the technology's ability to detect not only heartbeat but also respiration, body temperature, blood oxygenation and so forth.
The joy of stretchable electronics is that the manufacturing process is not unlike that of regular electronics. Just like with a normal microchip, gold electrodes and wires are deposited on to thin silicone wafers, but they're also embedded in the stretchable polymer substrate. When everything's in place, the polymer substrate with embedded circuitry can be peeled off and later installed on a new surface. The components that can be added to stretchable surface include sensors, LEDs, transistors, wireless antennas and solar cells for power.
For now, the technology is still the nascent stages, but scientists have high hopes. In the future, you could wear a temporary tattoo that would monitor your vital signs, or doctors might install stretchable electronics on your organs to keep track of their behavior. Stretchable electronics could also be integrated into clothing or paired with a smartphone. Of course, if all else fails, it'll probably make for some great children's toys.
Tuesday, August 28. 2012
Via Daily Mail
-----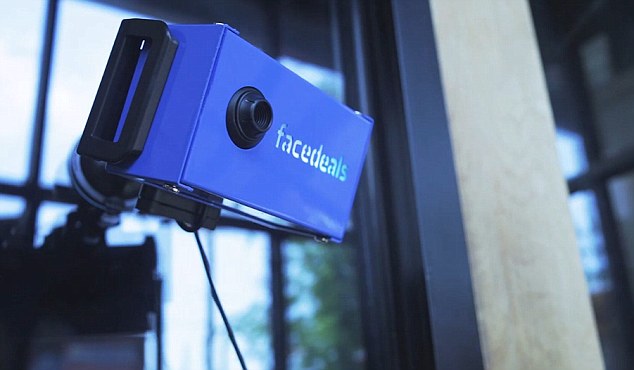 Facedeals - a new camera that can recognise shoppers from their Facebook pictures as they enter a shop, and then offer them discounts
A promotional video created to promote the concept shows drinkers entering a bar, and then being offerend cheap drinks as they are recognised.
'Facebook check-ins are a powerful mechanism for businesses to deliver discounts to loyal customers, yet few businesses—and fewer customers—have realized it,' said Nashville-based advertising agency Redpepper.
They are already trialling the scheme in firms close to their office.

'A search for businesses with active deals in our area turned up a measly six offers.
'The odds we'll ever be at one of those six spots are low (a strip club and photography studio among them), and the incentives for a check-in are not nearly enticing enough for us to take the time.

'So we set out to evolve the check-in and sweeten the deal, making both irresistible.
'We call it Facedeals.'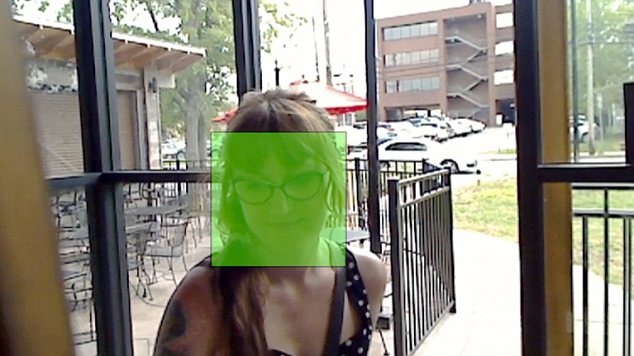 The Facedeal camera can identify faces when people walk in by comparing Facebook pictures of people who have signed up to the service
Facebook recently hit the headlines when it bought face.com, an Israeli firm that pioneered the use of face recognition technology online.
The social networking giant uses the software to recognise people in uploaded pictures, allowing it to accurately spot friends.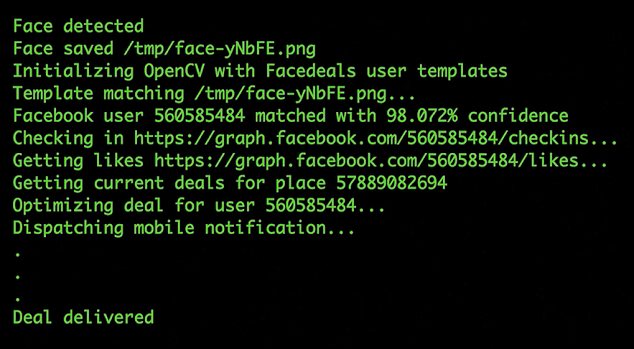 The software uses a complex algorithm to find the correct person from their Facebook pictures
The Facebook camera requires people to have authorised the Facedeals app through their Facebook account.

This verifies your most recent photo tags and maps the biometric data of your face.

The system then learns what a user looks like as more pictures are approved.

This data is then used to identify you in the real world.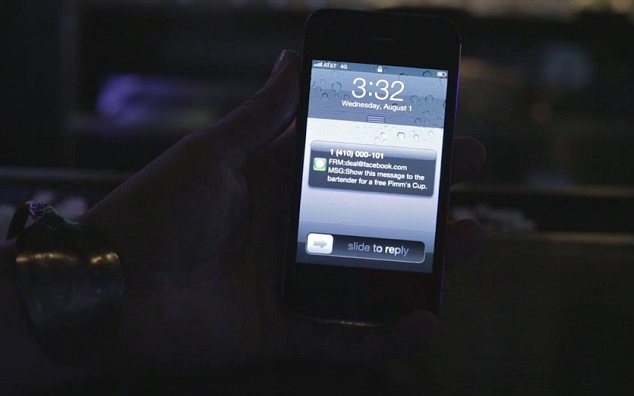 In a demonstration video, the firm behind the camera showed it being used to offer free drinks to customers if they signed up to the system.
Friday, June 29. 2012
Via DVICE
-----
The techno-wizards over at Google X, the company's R&D laboratory working on its self-driving cars and Project Glass, linked 16,000 processors together to form a neural network and then had it go forth and try to learn on its own. Turns out, massive digital networks are a lot like bored humans poking at iPads.
The pretty amazing takeaway here is that this 16,000-processor neural network, spread out over 1,000 linked computers, was not told to look for any one thing, but instead discovered that a pattern revolved around cat pictures on its own.
This happened after Google presented the network with image stills from 10 million random YouTube videos. The images were small thumbnails, and Google's network was sorting through them to try and learn something about them. What it found — and we have ourselves to blame for this — was that there were a hell of a lot of cat faces.
"We never told it during the training, 'This is a cat,'" Jeff Dean, a Google fellow working on the project, told the New York Times. "It basically invented the concept of a cat. We probably have other ones that are side views of cats."
The network itself does not know what a cat is like you and I do. (It wouldn't, for instance, feel embarrassed being caught watching something like this in the presence of other neural networks.) What it does realize, however, is that there is something that it can recognize as being the same thing, and if we gave it the word, it would very well refer to it as "cat."
So, what's the big deal? Your computer at home is more than powerful enough to sort images. Where Google's neural network differs is that it looked at these 10 million images, recognized a pattern of cat faces, and then grafted together the idea that it was looking at something specific and distinct. It had a digital thought.
Andrew Ng, a computer scientist at Stanford University who is co-leading the study with Dean, spoke to the benefit of something like a self-teaching neural network: "The idea is that instead of having teams of researchers trying to find out how to find edges, you instead throw a ton of data at the algorithm and you let the data speak and have the software automatically learn from the data." The size of the network is important, too, and the human brain is "a million times larger in terms of the number of neurons and synapses" than Google X's simulated mind, according to the researchers.
"It'd be fantastic if it turns out that all we need to do is take current algorithms and run them bigger," Ng added, "but my gut feeling is that we still don't quite have the right algorithm yet."
Wednesday, April 11. 2012
Via Christian Babski
-----
Extreme Tech has just published an interesting article on the history of super-comput[er,ing] that worth a reading. It is a bit spec' oriented but still gives a good overview on super-computer [r]evolution.

Thursday, April 05. 2012
Via Wired

-----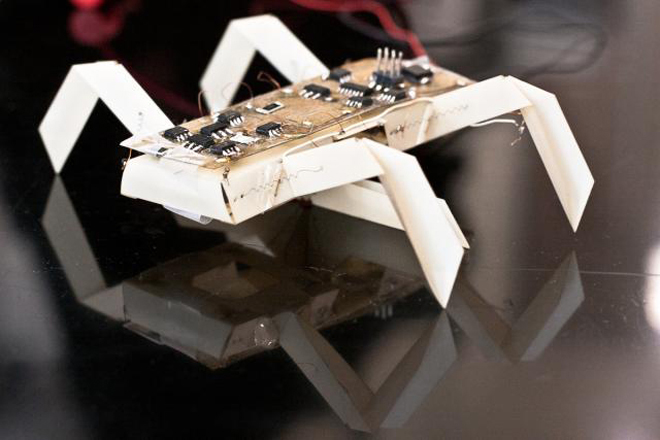 Insect printable robot. Photo: Jason Dorfman, CSAIL/MIT
Printers can make mugs, chocolate and even blood vessels. Now, MIT scientists want to add robo-assistants to the list of printable goodies.
Today, MIT announced a new project, "An Expedition in Computing Printable Programmable Machines," that aims to give everyone a chance to have his or her own robot.
Need help peering into that unreasonably hard-to-reach cabinet, or wiping down your grimy 15th-story windows? Walk on over to robo-Kinko's to print, and within 24 hours you could have a fully programmed working origami bot doing your dirty work.
"No system exists today that will take, as specification, your functional needs and will produce a machine capable of fulfilling that need," MIT robotics engineer and project manager Daniela Rus said.
Unfortunately, the very earliest you'd be able to get your hands on an almost-instant robot might be 2017. The MIT scientists, along with collaborators at Harvard University and the University of Pennsylvania, received a $10 million grant from the National Science Foundation for the 5-year project. Right now, it's at very early stages of development.
So far, the team has prototyped two mechanical helpers: an insect-like robot and a gripper. The 6-legged tick-like printable robot could be used to check your basement for gas leaks or to play with your cat, Rus says. And the gripper claw, which picks up objects, might be helpful in manufacturing, or for people with disabilities, she says.

The two prototypes cost about $100 and took about 70 minutes to build. The real cost to customers will depend on the robot's specifications, its capabilities and the types of parts that are required for it to work.
The researchers want to create a one-size-fits-most platform to circumvent the high costs and special hardware and software often associated with robots. If their project works out, you could go to a local robo-printer, pick a design from a catalog and customize a robot according to your needs. Perhaps down the line you could even order-in your designer bot through an app.
Their approach to machine building could "democratize access to robots," Rus said. She envisions producing devices that could detect toxic chemicals, aid science education in schools, and help around the house.
Although bringing robots to the masses sounds like a great idea (a sniffing bot to find lost socks would come in handy), there are still several potential roadblocks to consider — for example, how users, especially novice ones, will interact with the printable robots.
"Maybe this novice user will issue a command that will break the device, and we would like to develop programming environments that have the capability of catching these bad commands," Rus said.
As it stands now, a robot would come pre-programmed to perform a set of tasks, but if a user wanted more advanced actions, he or she could build up those actions using the bot's basic capabilities. That advanced set of commands could be programmed in a computer and beamed wirelessly to the robot. And as voice parsing systems get better, Rus thinks you might be able to simply tell your robot to do your bidding.
Durability is another issue. Would these robots be single-use only? If so, trekking to robo-Kinko's every time you needed a bot to look behind the fridge might get old. These are all considerations the scientists will be grappling with in the lab. They'll have at least five years to tease out some solutions.
In the meantime, it's worth noting that other other groups are also building robots using printers. German engineers printed a white robotic spider last year. The arachnoid carried a camera and equipment to assess chemical spills.
And at Drexel University, paleontologist Kenneth Lacovara and mechanical engineer James Tangorra are trying to create a robotic dinosaur from dino-bone replicas. The 3-D-printed bones are scaled versions of laser-scanned fossils. By the end of 2012, Lacovara and Tangorra hope to have a fully mobile robotic dinosaur, which they want to use to study how dinosaurs, like large sauropods, moved.
Lancovara thinks the MIT project is an exciting and promising one: "If it's a plug-and-play system, then it's feasible," he said. But "obviously, it [also] depends on the complexity of the robot." He's seen complex machines with working gears printed in one piece, he says.
Right now, the MIT researchers are developing an API that would facilitate custom robot design and writing algorithms for the assembly process and operations.
If their project works out, we could all have a bot to call our own in a few years. Who said print was dead?
Thursday, March 29. 2012
Via Slash Gear
-----
LG Display has launched a new, 6-inch flexible epaper display that the company expects to show up in bendable products by the beginning of next month. The panel, a 1024 x 768 monochrome sheet, can be bent up to 40-degrees without breaking; in addition, because LG Display has used a flexible plastic substrate rather than the more traditional glass, it's less than half the weight of a traditional epaper panel.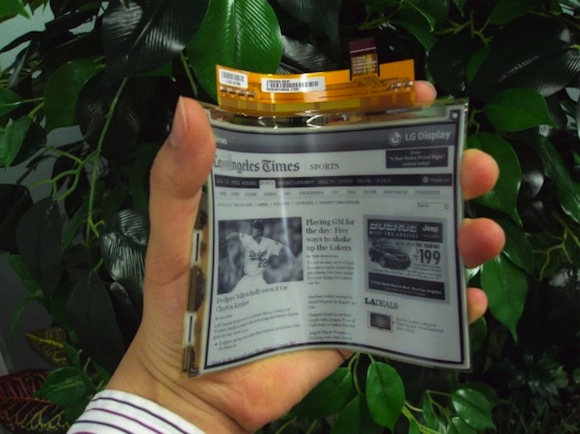 That means lighter gadgets that are actually more durable since the panels should be more resilient to drops or bumps. They can also be thinner, too: the plastic panel is a third slimmer than glass equivalents, at just 0.7mm thick.
LG Display says it can drop its new screen from 1.5m – the average height a device is held when it's being used for reading, apparently – without any resulting damage. The company also hit the screen with a plastic hammer, leaving no scratches or breaks, ETNews reports.
LG isn't the only company to be working on flexible screens this year. Samsung has already confirmed that it is looking at launching devices using flexible AMOLED panels in 2012, though it's unclear whether the screens will actually fold or bend, or simply be used to wrap around smartphones for new types of UI.
The first products using the LG Display flexible panel are on track for a release in the European market in early April, the company claims. No word on what vendors will be offering them, nor how pricing will compare to traditional glass-substrate epaper.
Tuesday, March 27. 2012
Via AnandTech
-----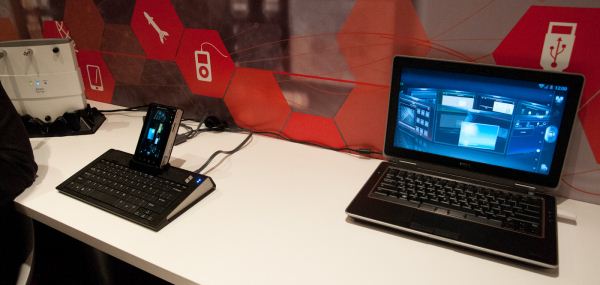 On our last day at MWC 2012, TI pulled me aside for a private demonstration of WiFi Display functionality they had only just recently finalized working on their OMAP 5 development platform. The demo showed WiFi Display mirroring working between the development device's 720p display and an adjacent notebook which was being used as the WiFi Display sink.
TI emphasized that what's different about their WiFi Display implementation is that it works using the display framebuffer natively and not a memory copy which would introduce delay and take up space. In addition, the encoder being used is the IVA-HD accelerator doing the WiFi Display specification's mandatory H.264 baseline Level 3.1 encode, not a software encoder running on the application processor. The demo was running mirroring the development tablet's 720p display, but TI says they could easily do 1080p as well, but would require a 1080p framebuffer to snoop on the host device. Latency between the development platform and display sink was just 15ms - essentially one frame at 60 Hz.
The demonstration worked live over the air at TI's MWC booth and also used a WiLink 8 series WLAN combo chip. There was some stuttering, however this is understandable given the fact that this demo was using TCP (live implementations will use UDP) and of course just how crowded 2.4 and 5 GHz spectrum is at these conferences. In addition, TI collaborated with Screenovate for their application development and WiFi Display optimization secret sauce, which I'm guessing has to do with adaptive bitrate or possibly more.
Enabling higher than 480p software encoded WiFi Display is just one more obvious piece of the puzzle which will eventually enable smartphones and tablets to obviate standalone streaming devices.
-----
Personal Comment:
Kind of obvious and interesting step forward as it is more and more requested by mobile devices users to be able to beam or 'to TV' mobile device's screens... which should lead to transform any (mobile) device in a full-duplex video broadcasting enabled device (user interaction included!) ... and one may then succeed in getting rid of some cables in the same sitting?!

Monday, March 26. 2012
Via electronista

-----
Samsung has developed a new camera sensor technology that offers the ability to simultaneously capture image and depth. The breakthrough could potentially be applied to smartphones and other devices as an alternative method of control where hand gestures could be used to carry out functions without having to touch a screen or other input. According to Tech-On, it uses a CMOS sensor with red, blue and green pixels, combined with an additional z-pixel for capturing depth.
The new Samsung sensor can capture images at a resolution of 1,920x720 using its traditional RGB array, while it can also capture a depth image at a resolution of 480x360 with the z-pixel. It is able to achieve its depth capabilities by a special process whereby the z-pixel is located beneath the RGB pixel array. Samsung's boffins then placed a special barrier between the RGB and z pixels allowing the light they capture to give the effect that the z-pixel is three times its actual size.

In this early iteration of the new technology, Samsung used FSI technology only. In future applications, BSI could be applied doubling the quantum efficiency of the design further reducing cross-talk to the RGB pixels.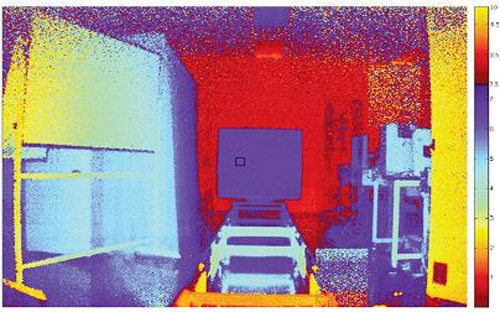 -----
Personal Comment:
Some additional information on BSI (Backside illumination)/FSI (Frontside Illumination):
Monday, February 06. 2012
Via Ars Technica
-----