Via TechHive

-----
Google has enjoyed a considerable head start on the mobile-mapping front, but Apple and Microsoft haven't been idle. Both companies have licensed data from a number of services to flesh out their competing map offerings in an effort to bolster their respective phone platforms and chip away at Google's dominance.
But there's more to a map than getting users to and from work: We rely on maps to figure out where we are, to find new places, and to plan trips far beyond our local haunts. Here's a look at which mapping service offers the best features and functionality.
A tale of three map apps
Google Maps
Google Maps' greatest strength lies in its robust search capabilities: Throughout my testing I found that I could type in a location and (generally) find the business or landmark I was seeking, whereas Apple and Windows Phone often required me to add a city to my search query. Google Maps also offers a killer feature in the form of Street View. If you've ever used Google Maps in a browser, you're likely familiar with the little yellow Pegman avatar that gives you a first-person view of the location you're searching for. It's incredibly useful, providing a clear idea of where you're heading before you ever arrive.
The robust direction options are another killer feature. All three mapping services offer directions by car and on foot, but only Google includes public transportation and biking directions. Public transit results can be hit or miss, however—many users have reported that bus schedules and the like don't necessarily line up with reality, though I've had pretty good luck while using the service in San Francisco.
Google Maps' Places functionality serves as a sort of neighborhood-savvy guide: You just tap the pin icon on the map for a list of places nearby, and filtering options let you limit searches to locations that are currently open, fit into a particular price range, or have a minimum review score. Finally, Google Maps displays reviews that its users have posted for most every establishment you could search for, from restaurants to police stations.
Apple Maps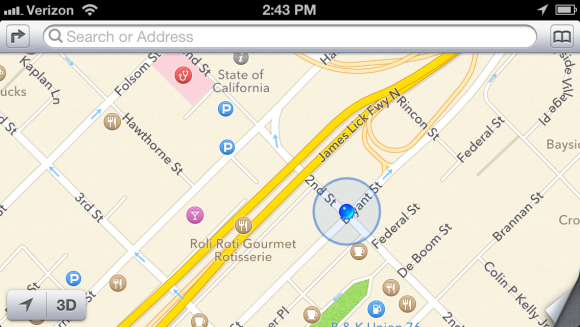 Apple's flyover view is a novel and admittedly attractive attempt at emulating Google Street View, but ultimately it falls flat. The vector-based maps certainly are eye-catching; but unless you're actually planning on flying a small plane over your destination, the view won't offer much in the way of utility. And let's not forget the often comical rendering issues that are the subject of at least one Tumblr blog, where bridges appear to melt into the landscape and some landmarks disappear entirely. Apple is working on correcting many of these issues, but they do mar Apple Maps' presentation.
Apple has tapped into Yelp's massive user community to find locations and power its reviews, and that's a powerful asset in places with an active Yelp community. Unfortunately, Yelp's business listings are mostly limited to larger cities in the United States, so you're out of luck if you're traveling through smaller towns or internationally. Tapping a business name in the Apple Maps app kicks you out of Maps and into the Yelp app—if you don't have it installed, you'll be prompted to get it. Swapping between apps can make casual browsing a bit annoying, but Yelp user reviews are decidedly more numerous and robust than Google's similar offerings.
Windows Phone 8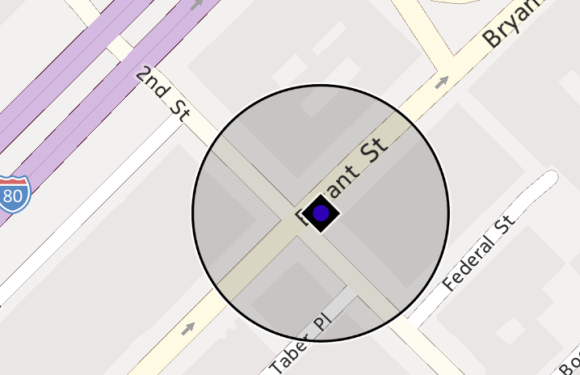 Windows Phone 8 uses Nokia's mapping engine, but the native Maps application isn't nearly as robust as the Nokia Drive app currently offered exclusively to Nokia Lumia owners. The Maps app on Windows Phone 8 is ultimately the most limited of the bunch: Although it pulls reviews from sites such as Citysearch and TripAdvisor to fuel its Buzz section, the app lacks photos or any sort of Street View analogue. The Buzz section also has far fewer reviews than Yelp or even Google, which can limit its utility at times.
Windows Phone Local Scout is a bit like Google Places, but Microsoft's offering takes top honors. It scans the area around you (or the location you've searched for), and lists establishments that are nearby. Results are divided into four categories. 'Eat + Drink' covers bars and restaurants, while the Shop section covers, well, shops. The sections serve up business hours, contact information, and the average ratings assigned by Citysearch and TripAdvisor users. The filtering options are fairly extensive; you can, for example, limit results to restaurants that are open and serving a particular cuisine, or hardware stores that are currently offering deals. The 'See + Do' section lists nearby upcoming events and places of interest—though the unfiltered list is a bit impractical if you're exploring casually, with museums and art galleries listed alongside New Year's Eve parties and high school reunions. Finally, there's the For You section, which couples data from Bing and Facebook to guess what sorts of venues you might be interested in; my suggestions were largely limited to bars, which makes sense based on my admittedly sparse Facebook check-in history.
Offline Maps
A final useful feature that all three services provide is offline maps. Apple's implementation is rudimentary: Once you've visited a location on the map, it and the surrounding areas are cached automatically to your device. You won't be able to search without Wi-Fi or cellular service, but the streets, businesses, and landmarks are preserved in all their vector-mapped glory.
If you're planning in advance, the latest version of Google Maps will let you make sections of a map available offline. Just tap the menu button, choose make available offline, and select a section of the map you'd like to preserve. Alternatively, you can select My Places from the Maps menu, choose new offline map, and search for a city to download a snapshot. The service will tell you exactly how much space the map will take up (in my tests the San Francisco Bay Area claimed approximately 35MB of storage space), and then it will download the section you've selected. Unfortunately, you can't search the map without a data connection.
Windows Phone's brute-force approach is actually my favorite implementation: You can download entire maps from a number of regions around the world. Although they take up considerably more space (California weighs in at just shy of 210MB) and you lose out on most of their satellite imagery, you'll have full search and navigation functionality—even in areas with a spotty data connection.
Search shootout
How do the three services stack up when it comes to finding places you'd like to visit? I did some testing to find out. My testing method was rather simple: I typed in the name of a business or landmark, and examined the results. I'll start with businesses in San Francisco, home to TechHive headquarters.
House of Shields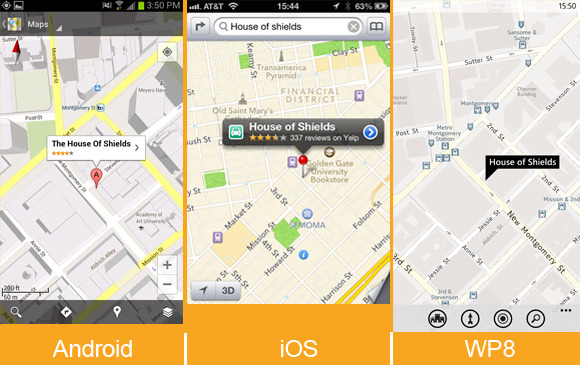 House of Shields is a fairly popular watering hole in the middle of downtown San Francisco, and (as expected) all three phones had no trouble finding it and serving up all of the information I could want. Windows Phone 8's Buzz section really excelled here, offering a concise breakdown of user reviews. It didn't have very many reviews, unfortunately. If you're walking about with friends and trying to get a general idea of a bar's ambiance, however, the snippets it serves up are arguably more useful than an average user rating from Yelp or Google.
Tomales Bay Oyster Company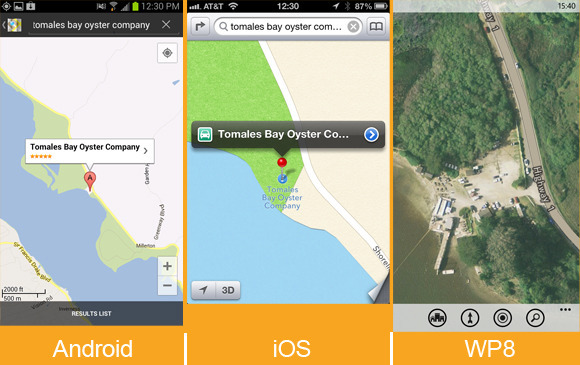 Tomales Bay Oyster Company is a small but lively oyster farm and picnic area located north of San Francisco. It's a great place to go if you're craving fresh oysters, looking for a beautiful view, or testing a phone's mapping app. Google and Apple found the business just fine, pointing their maps to the same isolated turnoff that hosts this delectable little dining spot. Both services offered the restaurant's phone number, but Google Maps went a bit further, serving up user-submitted photographs of the location, the restaurant's website and business hours, and reviews from Google Maps users. Windows Phone couldn't find the business at all, even when I punched in the address and searched for items of interest in the area. I could spot the picnic area by zooming in on the map's aerial photography, but that kind of information won't be of much help to most people.
State Bird Provisions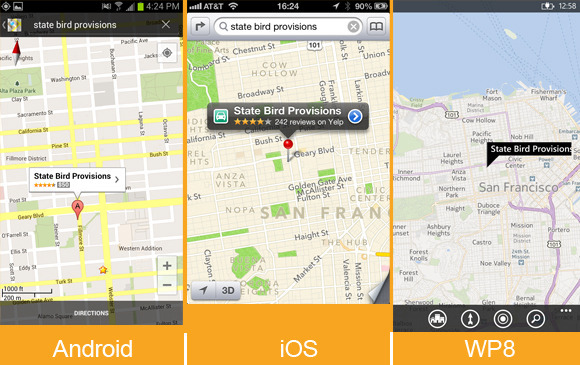 Both iOS and Google Maps found this relatively new restaurant with ease, supplying reviews, contact information, and business hours. On Windows Phone 8 I had to add "San Francisco" to my search before I found the location, and the results included only a phone number and a link to the website.
San Francisco's results are nice, but I also branched farther out in my testing.
Totonno's Pizzeria Napolitano (New York)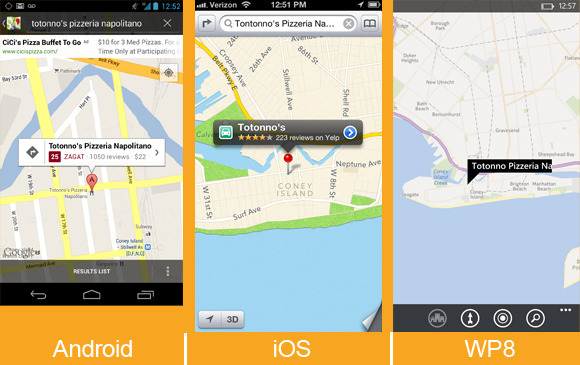 Totonno's Pizzeria Napolitano is a well-regarded pizza joint in New York, and Google Maps found it effortlessly. Finding the restaurant on iOS required adding "New York" to my search query, but Apple's map turned up all of the necessary information with plenty of photos from Yelp (Google Maps offered only two). Curiously, unless I was looking directly at a map of New York, the Maps app on Windows Phone 8 couldn't track the restaurant down at all. Once it found the establishment, it gave the necessary contact information and store hours, but served up decidedly fewer user reviews (and no photos).
Citizen Coffee (Seattle)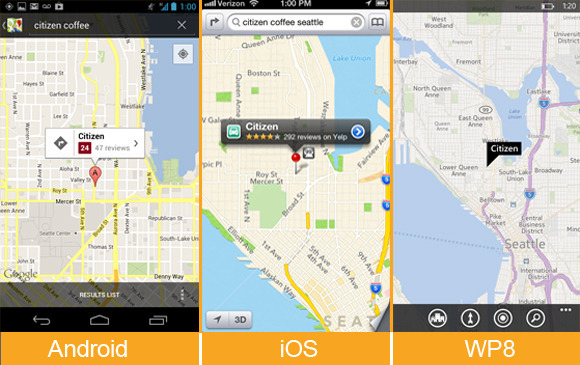 What about a place that's a little less renowned? Citizen Coffee, a cozy coffee shop and eatery in Seattle, is a spot I've wandered into a few times while traveling. Google Maps' search functionality shone on this test, narrowing the location down with ease. On Apple Maps, I needed only to add "Seattle" to my search query to find the place, and the Yelp support produced a lot of photos that gave a nice idea of the variety of food, as well as the ambiance of the establishment. (I still loathe the fact that you need to jump out of the Maps app entirely to check them out, however.) The location was just as easy to find on Windows Phone (once I'd added "Seattle" to my search query), but Windows Phone's Buzz category once again offered just a few token reviews, and lacked images.
Sukiyabashi Jiro (Tokyo)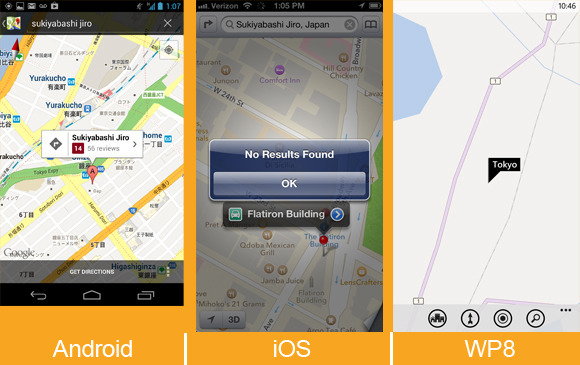 Branching out farther still, I headed to Japan to track down Sukiyabashi Jiro. The restaurant is the subject of the excellent documentary film Jiro Dreams of Sushi, and I assumed that it would be rather easy to track down. Alas, Yelp's services don't extend to Japan, so Apple Maps' offerings for that country are limited to addresses and phone numbers—I couldn't find Sukiyabashi Jiro at all. Windows Phone 8's map of Tokyo (and wide swaths of Asia, actually) is barren, lacking even basic information or street names. Unsurprisingly enough, Google Maps delivered in my test, offering the correct address, contact information, and some user reviews.
Tracking down business listings in distant cities and foreign countries can prove tricky for iOS and Windows Phone, which rely on licensed services from third parties that don't have as exhaustive a reach as Google does. I had no such trouble with famous landmarks, though Google Maps' general location-savvy again made it the most useful of the bunch—most of the time.
Taipei 101 (Taipei, Taiwan)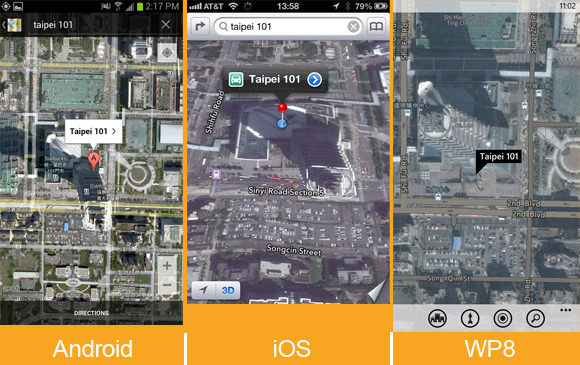 In my quest to find famous landmarks, I started with Taipei 101, the world's second-largest building. The search took a bit of extra effort on Windows Phone: Oddly, the only query that worked was "Taipei 101, Taipei." That said, all three services ultimately found the landmark, though only Google Maps provided listings for many of the businesses in the area.
Sydney Opera House (Sydney, Australia)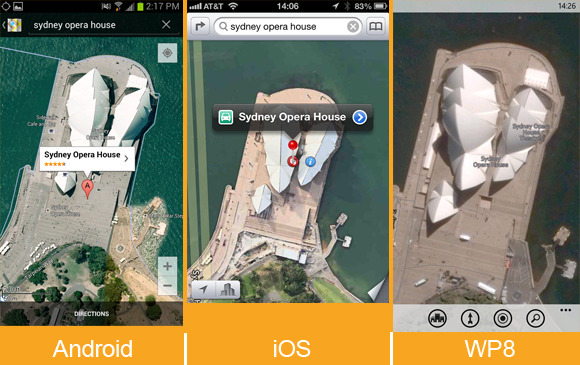 I had better luck tracking down the Sydney Opera House, though Windows Phone 8's map directed me a few miles southwest of the actual landmark. It's easy enough to pan over to the site (which is labeled correctly), but Google and Apple Maps both sent me to the right spot on the first try.
Flatiron Building (New York)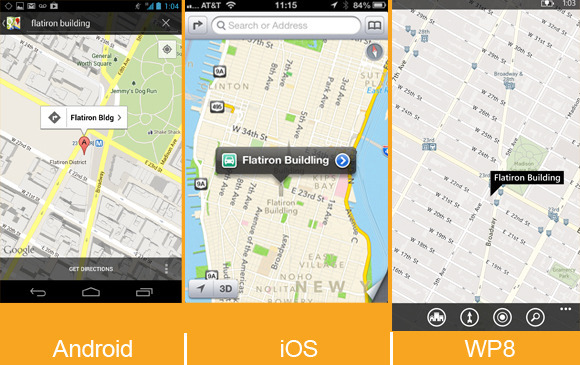 Searching for the iconic Flatiron Building was simple on both Apple Maps and Windows Phone; on iOS's standard map view, all of New York's landmarks are helpfully labeled and granted large, distinct icons, which makes casual browsing a breeze. Google initially tried to direct me to The Flatiron Group, a business situated a few blocks south of the landmark, but I was able to locate the building eventually by selecting it from a list of search suggestions.
Fenway Park (Boston)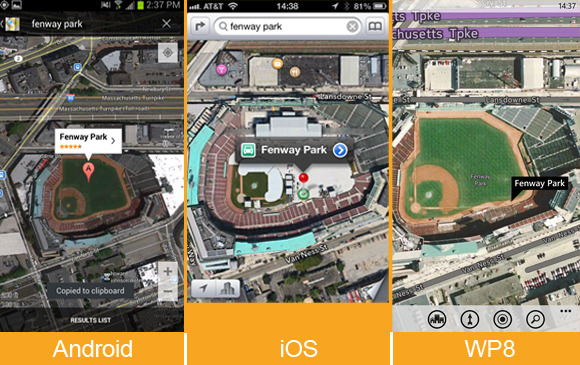 All three mapping services had no trouble finding Fenway Park, home of the Boston Red Sox. Once you arrive at the park (virtually), Windows Phone's Local Scout offers the easiest way to find nearby establishments; although you can do a generic search on Apple and Google Maps, I appreciated being able to scan a list of interesting locales near the ballpark.
Turn-by-turn navigation
Competent turn-by-turn navigation is a must-have feature for anyone who hopes to rely on a phone to get around. Unfortunately, Windows Phone 8's native Maps app currently lacks support for it. If you own a Nokia Lumia phone, you have access to Nokia's free Drive app, and the Windows Phone store offers free and paid alternatives for other Windows Phone devices.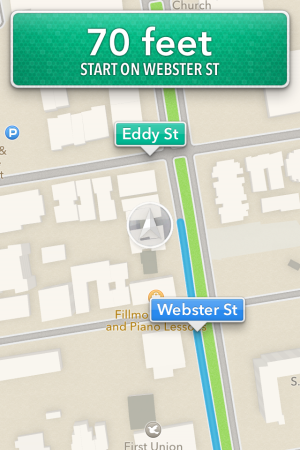 That leaves Apple Maps and Google Maps, two excellent offerings with slightly different implementations. In my tests both services gave accurate directions: The suggestions and even the alternative routes they served up were generally similar (in San Francisco, at least). Miss a turn, and both apps' robotic narrators will rapidly update their instructions to get you back on the right track. Both will keep you abreast of traffic conditions, and will suggest new routes if the situation looks especially bleak.
The Maps app on iOS provides turn-by-turn navigation if you're running the latest version of iOS and using an iPhone 4S or iPhone 5 (or an iPad 2 or later). The accuracy of the driving directions is on a par with that of Google Maps, but the focus on hands-free simplicity can be a double-edged sword. Setting up a route is easy: Search for a location, select the car icon, and tap the route button, and Siri will begin to relay driving instructions.
If you're focused on getting from point A to point B, this arrangement can be handy; the phone essentially becomes locked to the current step on the list of directions to your destination, ignoring all inputs on the touchscreen unless you leave the app, and even showing directions on the phone's lock screen. You need to tap the overview button to interact with the map, pausing the route in progress; it's a small issue, but being able to pan about the map without interrupting directions can be useful if you'd like to gauge traffic congestion in the area or keep an eye out for gas stations and the like on the fly.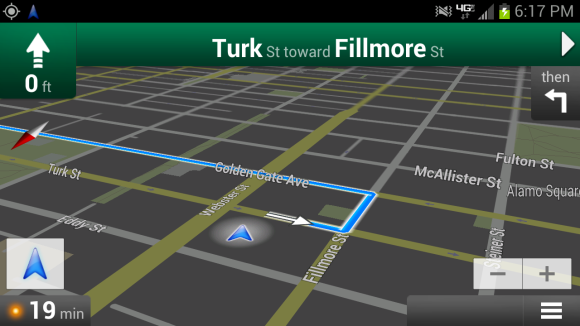 Google Maps shines in navigation. When you're in navigation mode, the map continues to function normally, so you (or ideally, someone who isn't driving) can scan for alternative routes or use the layers menu to plot landmarks such as ATMs or gas stations on the map. Google Maps also allows you to create routes that avoid highways and tolls, a simple but useful feature that Apple and Windows Phone would do well to emulate.
Truth be told, my only real qualm with Google Maps' navigation is the awkward overhead angle the app chooses to relay directions. The angle can make it a bit difficult to quickly parse the names of upcoming cross streets and side streets without panning over them on the map, and futzing with your phone isn't advisable when you're driving.
Which one is the winner?
The clear "loser" here is Windows Phone 8, but the maps are largely a victim of the operating system's own infancy. The services can only improve with time, as users add reviews and report errors. The Maps app is constantly evolving, and features such as turn-by-turn navigation are reportedly on the way. I do love Windows Phone's minimalistic presentation and free map downloads. Local Scout is also arguably the best way to explore a new area, but Microsoft's aerial photography and satellite images are lackluster in comparison with the competition, and the overall feature set is limited.
That leaves Google and Apple. iOS's Maps offering has improved considerably since leaving Google's mapping data behind, but the reliance on Yelp integration leaves much to be desired for users around the world—to say nothing of the need to switch apps to see most of the information you're looking for. Apple's stylish new vector maps are admittedly gorgeous, but offer no real utility; I also found it a bit too easy to slide into the skewed 3D perspective when I was trying to zoom in on a map, which can be a bit disorienting.
Unsurprisingly, Google Maps takes the crown. It offers the best search functionality, decidedly better business listings, and robust navigation options. Features such as Street View and Google user reviews allow you to get all of the information you need directly from the app. It isn't quite as attractive as Apple's Maps, and Windows Phone's Local Scout is clearly more useful than Google Places for exploring your surroundings, but Google's near-decade head start keeps it firmly in the lead.