Entries tagged as wireless
Monday, March 24. 2014
Via Slash Gear
-----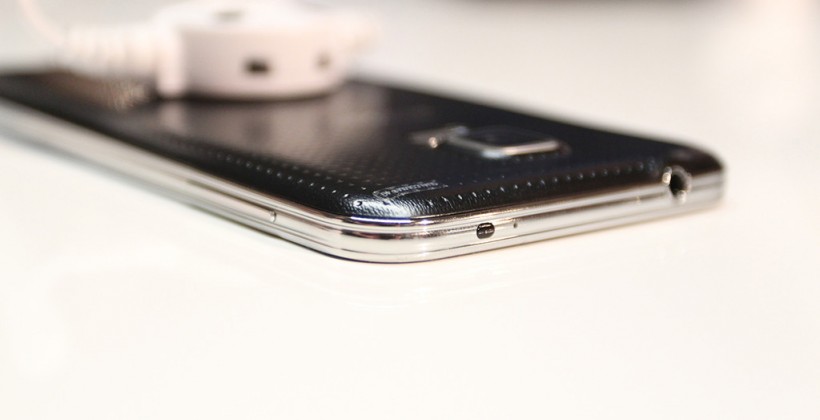 Just about every electronic device that we buy today has WiFi hardware embedded inside. Our game consoles like the PS3, PS4, Xbox One, and portable devices all ship with wireless connectivity. Strategy Analytics has issued a new report that shows 68% of all consumer electronics devices sold in the US now include WiFi capability.
When the report is expanded to look at the entire world, 57% of all consumer electronics devices have WiFi embedded. There are 4 billion WiFi enabled devices in use around the world today. Breaking that down, Strategy Analytics says that is about seven WiFi equipped devices for every home.
Looking around my house, I have more devices that that with multiple smartphones, game consoles, tablets, DVRs with WiFi, and more. It's easy to see how 4 billion WiFi devices can be in use around the world. The research firm predicts that by 2017 there will be over 7 billion WiFi devices in use globally.
The most common WiFi equipped devices on the market are mobile phones and tablets. Those two product categories account for 59% of all WiFi enabled CE devices shipped in 2013. Mobile PCs is the next biggest category accounting for 9% of WiFi devices shipped. The massive difference in percentage between mobile phones and tablets compared to mobile computers makes sense with the computer market on the decline. Key growth areas for WiFi moving forward will be in cameras, wireless audio speakers, smart TVs and DVRs according to Strategy Analytics.
Via Ericson
-----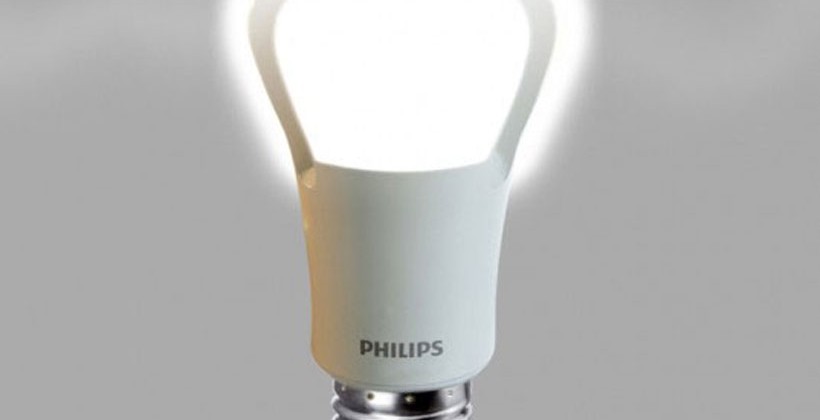 City populations grow by 7,500 people per hour and mobile data traffic is expected to grow ten times by 2019, increasing the need for sustainable lighting and enhanced mobile capacity and coverage in cities
New connected street lighting model solves two issues simultaneously: offering city officials an innovative way to afford next generation energy efficient LED lighting to meet sustainability goals, and enabling network operators to offer improved city-wide mobile broadband and app coverage
Called "Zero Site" by Ericsson, connected lighting solution integrates telecom equipment into light poles enabling telecom operators to improve mobile network performance while reducing urban clutter
Citizens will benefit from improved mobile network coverage for data communications and enhanced safety with brighter, well lit streets
Ericsson (NASDAQ:ERIC) and Royal Philips (NYSE: PHG, AEX: PHIA), the global leader in lighting, have jointly launched an innovative new connected LED street lighting model. The partnership solves two major issues that cities are facing today: providing citizens with improved network performance in dense urban areas as well as high quality, public lighting that is energy efficient.
Philips and Ericsson combine the benefits of mobile connectivity and LED lighting in a ''lighting-as-a-service'' model for cities. It allows city authorities to offer space within their connected lighting poles to network service providers for mobile broadband infrastructure.
Philips will now offer cities LED street lighting that can include mobile telecoms equipment from Ericsson. Mobile operators working with Ericsson for mobile broadband infrastructure will be able to rent space in the poles. In this way, mobile network operators will be able to improve data coverage and capacity for citizens, resulting in enhanced mobile broadband services. The model also accelerates the payback time for city infrastructure, by making the up-front costs of installing and managing these systems more affordable, so reducing the strain on city budgets.
Philips LED street lighting can generate energy savings of 50 to 70 percent, with savings reaching 80 percent when coupled with smart controls - as validated by a study conducted by The Climate Group in 12 of the world's largest cities. The study also showed that citizens prefer the white light of LED lighting, citing a greater sense of safety and improved visibility compared to the orange glow of traditional high pressure sodium systems.
Ericsson President and CEO Hans Vestberg says: "This is a tremendous solution using ICT and partnerships to address the megatrend of urbanization. City populations are increasing at the rate of 7,500 people per hour, but our world is not geographically expanding. Meanwhile, our ConsumerLab research shows that internet connectivity is one of the top five factors for satisfaction in city life. This Zero Site solution is the kind of innovation that offers a way for people to succeed in the Networked Society."
Frans van Houten, President and CEO of Philips, says: "This new connected LED street lighting model is another example of us bringing the Internet of Things to life and demonstrates the capabilities of light beyond illumination. We are offering lighting as a service that scales with a city's needs and enables city officials to offer their citizens a more connected, energy efficient and safer urban environment, while preserving existing budgets and resources to improve the livability of their city."
To meet the demand for coverage and capacity, mobile operators need to improve, densify and add many more radio cell sites in dense areas. The new connected street light pole, designed to house Ericsson's cutting edge suite of small cell products, offers network operators new possibilities to find the right site location. It will also help to scale the deployment of mobile broadband technology beyond traditional sites - a key enabler for evolving heterogeneous networks.
Tuesday, October 22. 2013
Via Quartz

-----
Current wireless networks have a problem: The more popular they become, the slower they are. Researchers at Fudan University in Shanghai have just become the latest to demonstrate a technology that transmits data as light instead of radio waves, which gets around the congestion issue and could be ten times faster than traditional Wi-Fi.
In dense urban areas, the range within which Wi-Fi signals are transmitted is increasingly crowded with noise—mostly, other Wi-Fi signals. What's more, the physics of electromagnetic waves sets an upper limit to the bandwidth of traditional Wi-Fi. The short version: you can only transmit so much data at a given frequency. The lower the frequency of the wave, the less it can transmit.
Li-Fi doesn't work in the dark or outdoors, but it only has to be a supplement to existing wireless networks to be valuable.AP Photo/Kin Cheung
But what if you could transmit data using waves of much higher frequencies, and without needing a spectrum license from your country's telecoms regulator? Light, like radio, is an electromagnetic wave, but it has about 100,000 times the frequency of a Wi-Fi signal, and nobody needs a license to make a light bulb. All you need is a way to make its brightness flicker very rapidly and accurately so it can carry a signal.
The idea sounds daft: Who would want to sit under a flickering bulb? But Li-Fi, a standard proposed just two years ago, is seeing rapid technological progress.
First, data are transmitted to an LED light bulb—it could be the one illuminating the room in which you're sitting now. Then the lightbulb is flicked on and off very quickly, up to billions of times per second. That flicker is so fast that the human eye cannot perceive it. (For comparison, the average energy-saving compact fluorescent bulb already flickers between 10,000 and 40,000 times per second.) Then a receiver on a computer or mobile device—basically, a little camera that can see visible light—decodes that flickering into data. LED bulbs can be flicked on and off quickly enough to transmit data around ten times as fast the fastest Wi-Fi networks. (If they could be manipulated faster, the bandwidth would be even higher.)
If you've ever used a solar-powered calculator, you already know how to connect to Li-Fi.Oledcomm
Li-Fi has one big drawback compared to Wi-Fi: you, or rather your device, need to be within sight of the bulb. It wouldn't necessarily need to be a special bulb; in principle, overhead lights at work or at home could be wired to the internet. But it would mean that, unlike with Wi-Fi, you couldn't go into the next room unless there were wired bulbs there too.
However, a new generation of ultrafast Wi-Fi devices that we're likely to start using soon face a similar limitation. They use a higher range of radio frequencies, which aren't as crowded with other signals (at least for now), and have a higher bandwidth, but, like visible light, cannot penetrate walls.
Engineers and a handful of startups, like Oledcomm, have been experimenting with Li-Fi technology. The Fudan University team unveiled an experimental Li-Fi network in which four PCs were all connected to the same light bulb. Other researchers are working on transmitting data via different colors of LED lights—imagine, for example, transmitting different signals through each of the the red, green and blue LEDs inside a multi-colored LED light bulb.
Because of its limitations, Li-Fi won't do away with other wireless networks. But it could supplement them in congested areas, and replace them in places where radio signals need to be kept to a minimum, like hospitals, or where they don't work, such as underwater.
Monday, September 23. 2013
Via endgadget

-----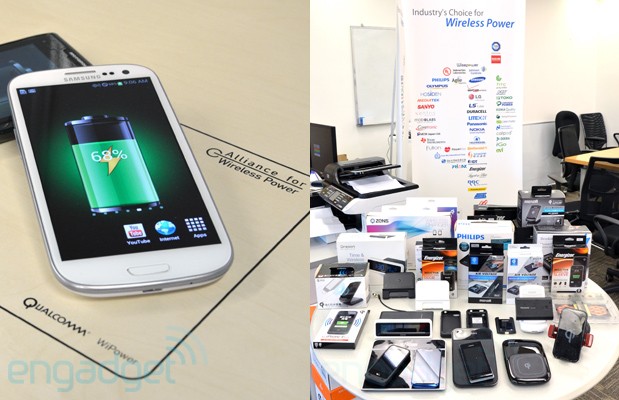 Qualcomm, the founding member of Alliance for Wireless Power (or A4WP in short), made a surprise move today by joining the management board of the rival Wireless Power Consortium (or WPC), the group behind the already commercially available Qi standard. This is quite an interesting development considering how both alliances have been openly critical of each other, and yet now there's a chance of seeing just one standard getting the best of both worlds. That is, of course, dependent on Qualcomm's real intentions behind joining the WPC.
While Qi is now a well-established ecosystem backed by 172 companies, its current "first-gen" inductive charging method is somewhat sensitive to the alignment of the devices on the charging mats (though there has been recent breakthrough). Another issue is Qi can currently provide just up to 5W of power (which is dependent on both the quality of the coil and the operating frequency), and this may not be sufficient for charging up large devices at a reasonable pace. For instance, even with the 10W USB adapter, the iPad takes hours to fully juice up, let alone with just half of that power.
Looking ahead, both the WPC and the 63-strong A4WP are already working on their own magnetic resonance implementations to enable longer range charging. Additionally, A4WP's standard has also been approved for up to 24W of output, whereas the WPC is already developing medium power (from 15W) Qi specification for the likes of laptops and power tools.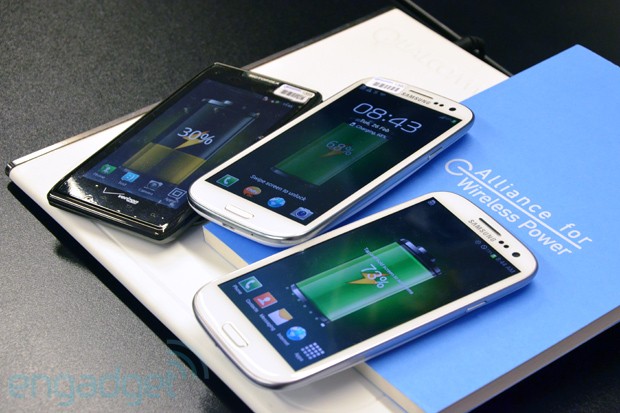 Here's where the two standards differentiate. A4WP's implementation allows simultaneous charging of devices that require different power requirement on the same pad, thus offering more spacial freedom. On the other hand, Qi follows a one-to-one control design to maximize efficiency -- as in the power transfer is totally dependent on how much juice the device needs, and it can even go completely off once the device is charged.
What remains unclear is whether Qualcomm has other motives behind its participation in the WPC's board of management. While the WPC folks "encourage competitors to join" for the sake of "open development of Qi," this could also hamper the development of their new standard. Late last year, we spoke to the WPC's co-chair Camille Tang (the name "Qi" was actually her idea; plus she's also the president and co-founder of Hong Kong-based Convenient Power), and she expressed concern over the potential disruption from the new wireless power groups.
"The question to ask is: why are all these groups now coming out and saying they're doing a standard? It's possible that some people might say they really are a standard, but they may actually not intend to put products out there," said Tang.
"For example, there's one company with their technology and one thing that's rolling out in infrastructure. They don't have any devices, it's not compatible with anything else, so you think: why do they do that?
"It's about money. Not just licensing money, but other types of money as well."
At least on the surface, Qualcomm is showing its keen side to get things going for everyone's best interest. In a statement we received from a spokesperson earlier, the company implied that joining the WPC's board is "the logical step to grow the wireless power industry beyond the current first generation products and towards next generation, loosely coupled technology." However, Qualcomm still "believes the A4WP represents the most mature and best implementation of resonant charging."
Wednesday, February 20. 2013
Via TXCHNOLOGIST

-----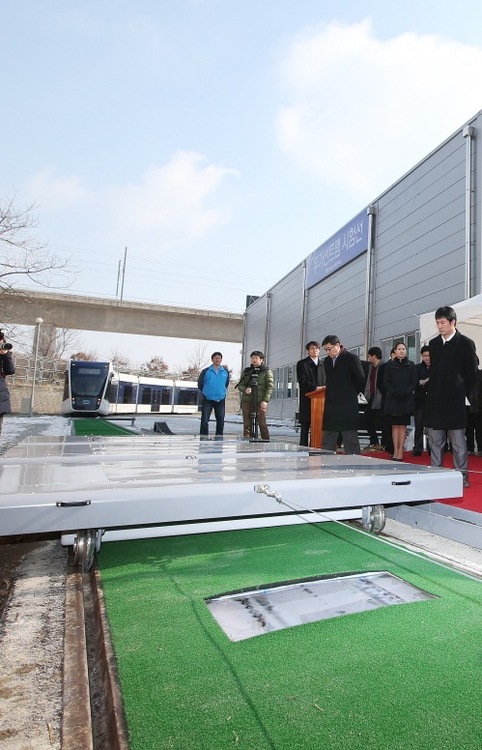 Korean trams and buses are moving away from overhead power wires and high-voltage third rails—literally.
Researchers at the Korea Advanced Institute of Science and Technology (KAIST) have made major advances in wireless power transfer for mass transit systems. The fruits of their labor, systems called On-line Electric Vehicles (OLEV), are already being road tested around Korea.
At it's heart, the technology uses inductive coupling to wirelessly transmit electricity from power cables embedded in roadways to pick-up coils installed under the floor of electric vehicles.
The work was hailed as one of the year's top 10 emerging technologies by the World Economic Forum this week.
Engineers say the transmitting technology supplies 180 kW of stable, constant power at 60 kHz to passing vehicles that are equipped with receivers. The initial OLEV models above received 100 kW of power at 20 kHz through an almost eight-inch air gap. They have recorded 85 percent transmission efficiency through testing so far.

(A concept drawing for an OLEV tram. Courtesy KAIST.)
The wireless electricity that powers the vehicle's motors and systems is also used to charge an on-board battery that supplies energy to the vehicle when it is away from the power line.
KAIST plans to start deploying the OLEV technology to tramlines in May and high-speed trains in September.
"We have greatly improved the OLEV technology from the early development stage by increasing its power transmission density by more than three times," said Dong-Ho Cho, the director of KAIST's Center for Wireless Power Transfer Technology Business Development, in a release. "The size and weight of the power pickup modules have been reduced as well. We were able to cut down the production costs for major OLEV components, the power supply, and the pickup system, and in turn, OLEV is one step closer to being commercialized."
The institute announced that buses equipped with the wireless power transfer technology are already used daily by students on the KAIST campus in Daejeon, while others are undergoing road tests in Seoul. Two more OLEV buses will begin trial operations in the city of Gumi in July.
Proponents say that the technology banishes overhead power lines and rails for electric trams and buses, dramatically lowers the costs of railway wear and tear and allows smaller tunnels to be built for electric vehicle infrastructure, lowering construction costs.

(An OLEV shuttle bus that provides rides to students and faculty on the KAIST campus in Daejeon. Courtesy Hyung-Joon Jeon/KAIST.)
Top Image: KAIST and Korea Railroad Research Institute displayed wireless power transfer technology to the public on Feb. 13 by testing it on railroad tracks at Osong Station in Korea. Photo courtesy Hyung-Joon Juen/KAIST.
Thursday, December 01. 2011
Via Unplggd

-----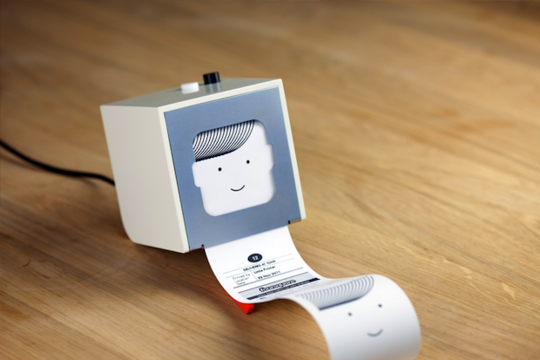 Everyone is talking about the "cloud", but one company, Berg, is trying to put a happy face to the amorphous concept with the announcement of a technological throwback: a printer. The Little Printer is a wireless connected printing device designed to work less like a sheet-by-sheet household printer and more like a miniature printing press of Tweet-proportions, delivering bite-size daily subscriptions to content you want to receive from the cloud. News, puzzles, messages from friends, a word of the day, horoscopes, the weather report...all configured from your smartphone.
In your front room,

Little Printer

wirelessly connects (with no configuration) to a small box that plugs into your broadband router. It's this same box that will enable our other planned products in the BERG Cloud family. There's no PC required, your phone is your remote control. We think of BERG Cloud as the nervous system for connected products. It's built to run at scale, and could as easily operate the Web-enabled signage of a city block, as the playful home electronics of the future. Not to mention the smart product prototypes that we work with our clients on, in the other side of our design studio.

Hello Little Printer, available 2012 from BERG.
Right now, Berg and their BERG Cloud partners are Arup, foursquare, Google, the Guardian, and Nike, with pre-order email notification signup open for the planned 2012 launch of The Little Printer.
Tuesday, September 13. 2011
Via DailyTech
-----

Between 2010 and 2015, the number of U.S. mobile Internet users will increase by a compound annual growth rate of 16.6 percent while PCs and other wireline services first stagnate, then gradually decline

The International Data Corporation (IDC) released its Worldwide New Media Market Model (NMMM) predictions yesterday, which forecasts that the number of people who use mobile devices to access the Internet will significantly increase over the next few years while wireline internet access will slowly decline.

According to the IDC's Worldwide New Media Market Model, more U.S. internet users will access the web through mobile devices rather than through PCs or wireline services by 2015.

Between 2010 and 2015, the number of U.S. mobile internet users will increase by a compound annual growth rate of 16.6 percent while PCs and other wireline services first stagnate, then gradually decline.

Globally, the number of internet users will increase from 2 billion in 2010 to 2.7 billion in 2015, as 40 percent of the world's population will have Web access by that time. Also, global B2C e-commerce spending will increase from $708 billion in 2010 to $1,285 billion in 2015 at a compound annual growth rate of 12.7 percent, and worldwide online advertising will increase from $70 billion in 2010 to $138 billion in 2015.

"Forget what we have taken for granted on how consumers use the Internet," said Karsten Weide, research vice president, Media and Entertainment. "Soon, more users will access the Web using mobile devices than using PCs, and it's going to make the Internet a very different place."
These predictions may seem unsurprising, considering the fact that tech giants like Apple

, Samsung, Google and Motorola are consistently releasing smartphones and tablets (in Google's case, its Android OS). A recent study conducted by the Pew Internet & American Life Project found that 35 percent of American adults now own a smartphone instead of a feature phone.

The spotlight was placed on the decline of wireline services last month when 45,000 Verizon wireline employees went on strike because the company had to cut pensions, make employees pay more for healthcare, etc. in order to cut costs and compensate for its declining wireline business.

Friday, August 26. 2011
Via Daily Tech

-----

MicroGen Systems says its chips differ from other vibrational energy-harvesting devices because they have low manufacturing costs and use nontoxic material instead of PZT, which contains lead.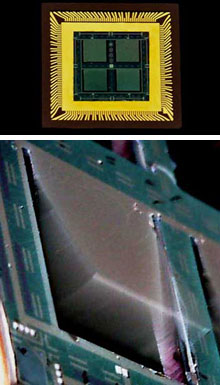 (TOP) Prototype wireless sensor battery with four energy-scavenging chips. (BOTTOM) One chip with a vibrating cantilever (Source: MicroGen Systems )
MicroGen Systems is in the midst of creating energy-scavenging chips that will convert environmental vibrations into electricity to power wireless sensors.

The chip's core consists of an array of small silicon cantilevers that measure one centimeter squared and are located on a "postage-stamp-sized" thin film battery. These cantilevers oscillate when the chip is shook, and at their base is piezoelectric material that produces electrical potential when strained by vibrations.

The current travels from the piezoelectric array through an electrical device that converts it to a compatible form for the battery. When jostling the chip by vibrations of a rotating tire, for example, it can generate 200 microwatts of power.

Critics such as David Culler, chair of computer science at the University of California, have said that 200 microwatts may be useful at a small size, but other harvesting techniques through solar, light, heat, etc. are more competitive technologies since they can either store the electrical energy on a battery or use it right away.

But according to Robert Andosca, founder and president of Ithaca, New York-based MicroGen Systems, his chips differ from other vibrational energy-harvesting devices because they have low manufacturing costs and use nontoxic material instead of PZT, which contains lead.

Most piezoelectric materials must be assembled by hand and can be quite large. But MicroGen's chips can be made inexpensively and small because they are based on silicon microelectrical mechanical systems. The chips can be made on the same machines used to make computer chips.

MicroGen Systems hopes to use these energy-harvesting chips to power wireless sensors like those that monitor tire pressure. The chips could eliminate the need to replace these batteries.

"It's a pain in the neck to replace those batteries," said Andosca.

MicroGen Systems plans to sell these chips at $1 a piece, depending on the volume, and hopes to begin selling them in about a year.
Thursday, August 18. 2011
Is your network safe? Almost all of us prefer the convenience of Wi-Fi over the hassle of a wired connection. But what does that mean for security? Our tests tell the whole story. We go from password cracking on the desktop to hacking in the cloud.
We hear about security breaches with such increasing frequency that it's easy to assume the security world is losing its battle to protect our privacy. The idea that our information is safe is what enables so many online products and services; without it, life online would be so very different than it is today. And yet, there are plenty of examples where someone (or a group of someones) circumvents the security that even large companies put in place, compromising our identities and shaking our confidence to the core.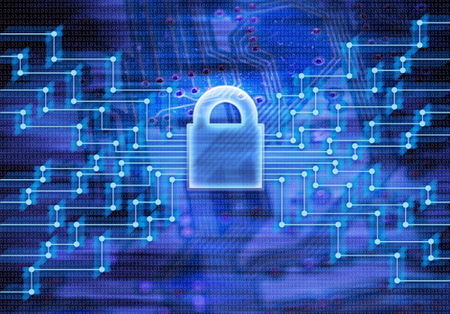 Understandably, then, we're interested in security, and how our behaviors and hardware can help improve it. It's not just the headache of replacing a credit card or choosing a new password when a breach happens that irks us. Rather, it's that feeling of violation when you log into your banking account and discover that someone spent funds out of it all day.
In Harden Up: Can We Break Your Password With Our GPUs?, we took a look at archive security and identified the potential weaknesses of encrypted data on your hard drive. Although the data was useful (and indeed served to scare plenty of people who were previously using insufficient protection on files they really thought were secure), that story was admittedly limited in scope. Most of us don't encrypt the data that we hold dear.
At the same time, most of us are vulnerable in other ways. For example, we don't run on LAN-only networks. We're generally connected to the Internet, and for many enthusiasts, that connectivity is extended wirelessly through our homes and businesses. They say a chain is only as strong as its weakest link. In many cases, that weak link is the password protecting your wireless network.
There is plenty of information online about wireless security. Sorting through it all can be overwhelming. The purpose of this piece is to provide clarification, and then apply our lab's collection of hardware to the task of testing wireless security's strength. We start by breaking WEP and end with distributed WPA cracking in the cloud. By the end, you'll have a much better idea of how secure your Wi-Fi network really is.
-----
Complete article/survey @tomshardware.com

Wednesday, July 06. 2011
Via Insteading
-----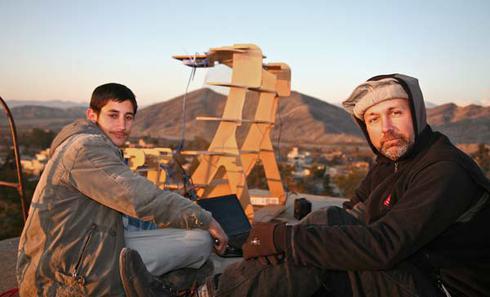 Is there such a thing as DIY internet? An amazing open-source project in Afghanistan proves you don't need millions to get connected.
While visiting family last week, the topic of conversation turned to the internet, net neutrality, and both corporate and government attempts to police the online world. A family member remarked that if they wanted to, the U.S. government could simply turn off the internet and the entire world would be screwed.
Having read this inspiring article by Douglas Rushkoff on Shareable.net, I surprised the room by disagreeing. I said that we didn't need the corporate built internet, and that if we had to, the people could build their own. Of course, not being that technically minded, I couldn't offer a concrete idea of how this could be achieved. Until now.
A recent Fast Company article shines a spotlight on the Afghan city of Jalalabad which has a high-speed Internet network whose main components are built out of trash found locally. Aid workers, mostly from the United States, are using the provincial city in Afghanistan's far east as a pilot site for a project called FabFi.
FabFi is an open-source, FabLab-grown system using common building materials and off-the-shelf electronics to transmit wireless ethernet signals across distances of up to several miles. With Fabfi, communities can build their own wireless networks to gain high-speed internet connectivity—thus enabling them to access online educational, medical, and other resources.
Residents who desire an internet connection can build a FabFi node out of approximately $60 worth of everyday items such as boards, wires, plastic tubs, and cans that will serve a whole community at once.
Jalalabad's longest link is currently 2.41 miles, between the FabLab and the water tower at the public hospital in Jalalabad, transmitting with a real throughput of 11.5Mbps (compared to 22Mbps ideal-case for a standards compliant off-the-shelf 802.11g router transitting at a distance of only a few feet). The system works consistently through heavy rain, smog and a couple of good sized trees.
With millions of people still living without access to high-speed internet, including much of rural America, an open-source concept like FabFi could have profound ramifications on education and political progress.
Because FabFi is fundamentally a technological and sociological research endeavor, it is constantly growing and changing. Over the coming months expect to see infrastructure improvements to improve stability and decrease cost, and added features such as meshing and bandwidth aggregation to support a growing user base.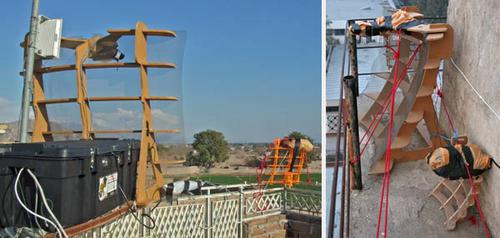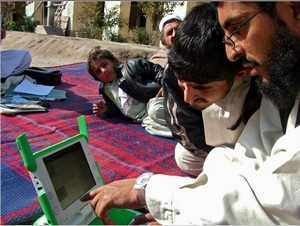 In addition to network improvements, there are plans to leverage the provided connectivity to build online communities and locally hosted resources for users in addition to MIT OpenCourseWare, making the system much more valuable than the sum of its uplink bandwidth. Follow the developments on the FabFi Blog.