Via Slash Gear

-----
MakerBot is best known for its 3D printers, turning virtual products into real ones, but the company's latest hardware to go on sale, the MakerBot Digitizer, takes things in the opposite direction. Announced back in March, and on sale from today for $1,400, the Digitizer takes a real-world object and, by spinning it on a rotating platform in front of a camera, maps out a digital model that can then be saved, shared, modified, and even 3D printed itself.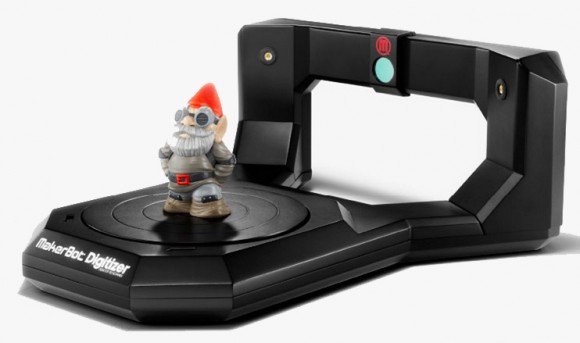 Although the process itself involves some complicated technology and data-crunching, MakerBot claims that users themselves should be able to scan in an object in just a couple of clicks. The company includes its own MakerWare for Digitizer software, which creates files suitable for both the firm's own 3D printers and generic 3D files for other hardware.
Calibration is a matter of dropping the included glyph block on the rotating platter and having the camera run through some preconfigured tests. After that, you center the object you're hoping to scan, selecting whether they're lightly colored, medium, or dark, and then waiting until the process is done.
MakerBot Digitizer Desktop 3D Scanner overview:
That takes approximately twelve minutes per object, MakerBot says, so don't think of this as the 3D scanner equivalent of a photocopier. The camera itself runs at 1.3-megapixels and is paired with two Class 1 lasers for mapping out objects, and the overall resolution is good for 0.5mm in terms of detail and +/- 2.0mm for dimensional accuracy. Maximum object size is up to 20.3cm in diameter and the same in height.

Once you've actually run something through the scanner, the core grid file can be shared directly from the app to Thingiverse.com, or edited and combined with other 3D files to make a new object altogether.
The MakerBot Digitizer Desktop Scanner is available for order now, priced at $1,400.